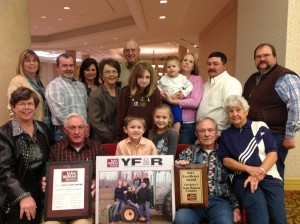 The reason that they are called "the Voice of Agriculture" is that Farm Bureau Federation members account for the largest group of individuals with farming interests in Van Buren County, as well as, in Arkansas and in the United States.
Leaders of the Van Buren County Farm Bureau Federation have been recently recognized by their state organization for their community involvement in aggressively promoting agriculture interests and agriculture education.
As shown in the photo above, they won all ten stars of the Gold Star standard of achievements set forth by the state organization. In addition, they were awarded the coveted "Excellence Award."
Others receiving recognition were county president, Stephen Matthews, his wife Amanda. & His children received the 2013 Young Farmers & Ranchers Excellence in Agriculture Award.
The 2013 Arkansas Agriculture-In-The- Classroom Outstanding Teacher Award was given to Lori Rooney of South Side High School -Bee Branch. The first annual Women's Diamond Award for the state's outstanding volunteer was given to Cindy Wilson.
The Van Buren County Farm Bureau Women's Committee was awarded a leather scrapbook to store their memories as the 2013 District Winner. Many volunteer hours were committed by the board and its committees to attain their over arching success this past year. As with all accomplishments in life, success is not achieved in a vacuum.
We wish to thank the citizens of Van Buren County for their incredible support and participation.