FFB's Organization of the Month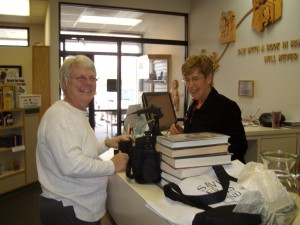 Web Exclusive…The Fairfield Library is often described as the hub of the community by patrons who frequent the library. There is more to the library than one might think. In addition to a wide selection of hardbound books, the audio book collection is rapidly growing. The movie selection has more than 1,400 titles, with the newest movies coming in as they are released. There are also music on CD's to check out, with many different genre selections to choose from.
There are five up-to-date computers with internet service and programs such as Word and Excel. Since these computers are used by the public, no information is stored on them for more than one day. Every day when the computers are turned on, it's like starting with a clean slate, so there are no worry about anyone using a patron's personal information.
The library has a staff of volunteers that sign up for the times and dates that work for them. This is a unique situation, as most libraries are as fortunate with volunteers. For information about volunteering come by the library or call at 884-4930.
Membership. Join Now… The library is an independent library, since only the county library is funded by county and state, it is self-funded and operates from donations, fundraisers, and corporate sponsorships. This is the reason for the annual $15 membership fee for anyone over the age of 18. If you don't have a membership card come by and join the library and take advantage of all that is available. Someone at the library will answer any questions you may have, everyone is welcome.