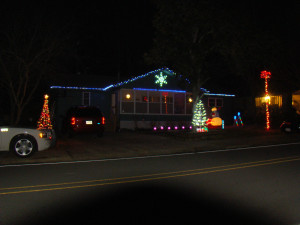 Got your plan in mind to decorate your lawn and house in lights? No worries about serving refreshments….just turn the lights on at dark then peek out the window to watch as a busload of residents and visitors drive slowly by so they can enthusiastically mark their ballots. You may win a prize!
The date for judging is Thursday, December 5. Fill out the entry form in this week's newspaper, bring it to the NEWS office or email your information to Dan at [email protected] The first prize is 3-months free Community Club dues valued at $120; second prize is dinner for 2 at Top Of The Rock at The Club and 3rd prize is lunch for 2 at TOTR at The Club.
Mark your calendar now for ALL the festivities on Thursday, December 5 beginning with the annual lighting of Ed Leamon Park. Arrive at 5:30 p.m. to be ready to watch the musically enhanced lighting, then go inside the Senior Center to enjoy free cookies and coffee and greet Mr. & Mrs. Santa Clause. The special holiday music will be presented by the Madrigal Singers from Peace Lutheran Church. The "Light Up The Bay" judging tour bus will leave the Senior Center after the lighting of Ed Leamon Park and the festivities at the Center. The bus can hold 24, so get your friends together then call the NEWS office at 884-6012 to reserve your seats.