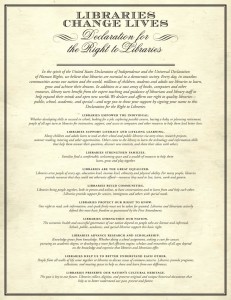 The Fairfield Bay Library is taking part in a month long initiative, 'Libraries Change Lives: Declaration for the Right to Libraries,' from the American Library Association, and in conjunction with the Arkansas Library Association. This is taking place in February because it is "Love Your Library" month.
The purpose of the initiative is to promote the importance of libraries. The 'Declaration for the Right to Libraries' may be read at the library any time during library hours. The declaration is a strong statement communicating the impact of libraries on communities.
"I would like to urge patrons, friends and those who care about community libraries, to come by and add their signature to the declaration. They will be signing a sheet that begins with, 'We declare and affirm our right to quality libraries…'," says Library Director, Alice Chambers.
Signatures from libraries all over Arkansas and the rest of the country, will be gathered and presented during National Library Legislative Day, May 2014.
'In the spirit of the United States Declaration of Independence and the Universal Declaration of Human Rights, we believe that libraries are essential to a democratic society. Every day, in countless communities across our nation and the world, millions of children, students and adults use libraries to learn, grow and achieve their dreams. In addition to a vast array of books, computers and other resources, library users benefit from the expert teaching and guidance of librarians and library staff to help expand their minds and open new worlds. We declare and affirm our right to quality libraries – public, school, academic and special – and urge you to show your support by signing your name to this Declaration for the Right to Libraries.'