Paul Wellenberger/FFB Mayor
It was almost the worst of all worlds, a thick layer of ice, covered with inches of sleet, and temperatures that remained below freezing for a week. I say almost, because at least we did not lose electrical service.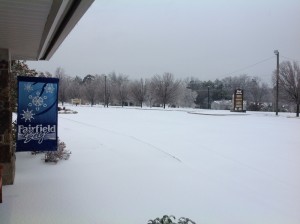 I would like to take this opportunity to showcase once again what a great group of citizens we have. Leo Brandmeyer gave up his business for a week to help those who were stranded. Super volunteer, Ron Milligan also came to the rescue of many. Bob Blahnic and John Cook were available at all hours to help. Jimmie Foster spent every waking hour helping us get stranded motorists to safety. There were many on the ambulance team, including Club Board member Richard Stratton, who pulled 48 hour shifts when the next day's crew could not make it in. It was the same story with the 911 call center and the police.
And the Public Works team was amazing. I was on ambulance duty of last Thursday and I called them at 6:30 a.m. to sand a driveway so we could get a patient loaded. At 7:30 p.m., 13 hours later, I called the same crew and they assisted in getting a patient with a steep driveway safely in his house. They did that day after day for over a week. Until the temperatures rose they were fighting a losing battle. The ice was so thick that even backing down hills with the sand trucks they would continually slide down into ditches, putting them at risk to try to get roads at least passable with 4 wheel vehicles.
Though not called on because we did not lose power, under the leadership of Jerry Thompson, the Kirk of the Hills emergency center team was ready with staff and processes to keep track of who was in the center (when power goes out and loved ones can't be found we need to know who is at the center), medical needs documented (with a cadre of nurses on staff), food and water available, and security in place. Chris Lang and her team were ready if the Senior Center was needed for overflow.
There are many, many more that helped and checked on their neighbors. We will have a lessons learned session after this to identify opportunities for improvement. For those who stayed indoors until it was safe to travel, I thank you.