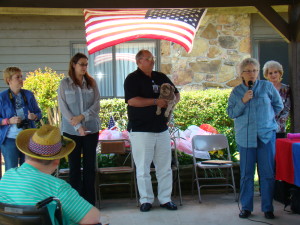 Through a coordinated effort with the Arkansas Department of Correction, Senior Works and Last Chance Arkansas a 3 year old shelter Shiztsu, named Maggie, has been placed at IRV as a therapy dog.
Paws in Prison is a unique program made possible by the Arkansas Department of Correction's partnerships with Central Arkansas Rescue Effort for animals (CARE) and other animal shelters and advocate groups across the state. Last year, hundreds of homeless dogs were euthanized in animal shelters.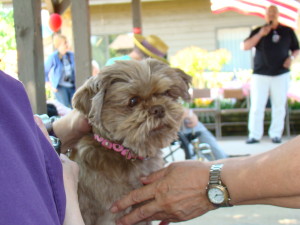 ADC's partners rescue dogs, which are placed in the Paws in Prison program. Inmates, who have received instruction from professional dog trainers, work with the animals and teach them basic obedience and socialization skills to make them more adoptable.
This program saves the dogs and prepares them for adoption, while providing inmates new skills and opportunities to do something positive for the state while incarcerated.
Camile LaGrossa, representative of Senior Works, spoke during the presentation and said that Senior Works sponsored Maggie and waived the $250 fee normally charged for a therapy dog.
Also attending was Jim Gumm, prison coordinator, and Barb Kampbell, with Last Chance Arkansas. During the presentation IRV residents, Charles (Joe) Dennis sang a couple songs, Mike Willis gave the invocation and Lois Valbracht gave the benediction.