Tara Morgan & Synthia Olive
I.R.V. Activity Department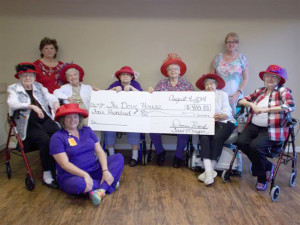 Here at Indian Rock Village, we have a group of ladies that happen to wear little Red Hats and call themselves the I.R.V. Red Hot Mommas. We meet every month and discuss ways to help others in our surrounding area. For this year's project, we decided to have a yard sale and we would give the proceeds to the Dove House in Clinton.
We put out flyers to ask for donations of items, we made yard sale signs and priced our items, (which as we found out, it took two meetings to get all of the items priced). We are so thankful for your help in making this a great success.We are proud to say with the communities help that we raised $400.35 to be given to the the Dove House.