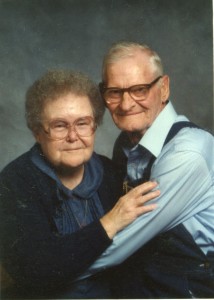 I would want everyone that knew Ellis, to remember him on the 100th anniversary of his birth. He always said that he wanted to live to be 100. If George Burns can do it, he could do it. That was before he lost his wife Bernice on December 1 2004. He followed her on April 14, 2005. He was ready to go be with her. So, as you go fishing, playing dominoes or whatever you enjoy doing, remember this man that loved to do all of this. In Dominoes, he would know what you had in your hand after you played one time around the table. He loved to Domino when you held the double six. At fishing, both he and his wife were serious fishers. You didn't make noise on the bank and if they were getting a bite, you stopped what you were doing to watch. You sure didn't mess with their fishing poles nor try to help them when they caught a big one. They would stop you in your tracks. They caught their own bate with a cane pole, dug worms where I know there were snakes and even have to wear coats and boots to keep warm. They had some special friends that would know their fishing spot and would drop by to check on them and check out their catch. They kept their small ice chest ready to go with their cans of Vienna sausage, crackers and have the pop cold and ready to place in the chest. I am sure that some of you have shared a pop with them on the river bank. All you had to say was, "Let's go fishing" and they were ready.
They both loved their family. They were there for you when sickness hit. Staying up late when needed, or Mom would cook and take dinner to the family. They were always there to listen and would only give advice if you ask for it. They always got so excited when their kids came home. Their life went on hold and they would enjoy planning things around the kids visit.
Being there during sickness wasn't just for humans, even if it was a cow, my dad would get a call at night and he would get whatever he needed and go to help. He has delivered many calves when the cow couldn't do it herself and given shots to cows to help them get better. Dad was the unofficial vet in Shirley. He was also the unofficial Barber. Friends would come and see him on Saturday morning to have him trim their hair.
Hauling Cattle was his trade and later on, he owned a bull dozer. He cleared several pieces of land here in Shirley. He loved doing that. Each year he would take his family to Indiana to work in the tomato factory, (now known as Red Gold). He always had a hard time with the time change but it didn't stop him. Putting in 70 or more hours a week wasn't unusual for him. He kept the machines running and ready to go. He would give a ride to many so they could work in the factory.
One proud task that he did was to serve on the board of 2 cemetery's, the Steel Hopewell cemetery (were lots of his family is buried) in Bee Branch and the Settlement Cemetery (where his other family members are now resting) and also where he and our mom rest.
The family members of Ellis are remembering him this week, as we do every day, and wanted to share some of our memories with you. If he were still with us, we would ask for a birthday card to be sent to him, they loved to get cards. But he isn't, so if you have a memory of our Dad, I would love to know those memories. If you have some memories of our mom and dad and would like to share them, they can be mailed to Glenda Keenihan, 148 Swinging Bridge Rd, Beebe, AR 72012.
We honor our Dad, (Papa) and also our Mom (Mama) and hope that you will share your memories with us. Call Linn, Ronnie Ward, Glenda Keenihan and all of their families.