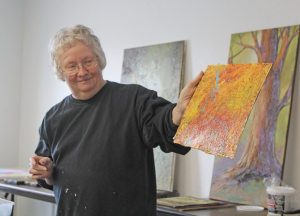 A multi-media workshop is planned for October 27 and 28, Thursday and Friday, from 9 a.m. to 4 p.m. in Fairfield Bay. Presented by Hot Springs Village artist Caren Garner, the workshop is sponsored by the North Central Arkansas Artist League. Artists attending will receive help and ideas for subjects of their choice; call Joyce Hartmann at 501-745-6615 for further information about supplies to bring to the workshop. To register call Treasurer Bonnie Hookman at 501-884-6652; registration is $75.
Caren did a demonstration for the Artist League earlier this year, and it was so entertaining and informative that the Board immediately booked her for a follow-up workshop.
She excels in experimental and non-objective work in watercolor, acrylics, mixed media and collage and is currently using a lot of textural elements. A favorite subject is wildlife, especially African wildlife. She is also adept in a variety of work including florals, landscapes, portraits, and abstract/non-objective work. She emphasizes texture and design, often incorporating African animals into the subject matter.
Caren's work can be viewed at the NCA Gallery in the Fairfield Bay Conference Center. Her work is also on display in both private and corporate collections around the country including the Walter Reed Army Medical Center and a patriotic mural on the Palliative Care Unit at the John L McClellan VA Medical Center in Little Rock. Caren has done murals for several Little Rock restaurants, teaches art and is a member of Conway League of Artists and Mid-Southern Watercolorists.
Caren has painted for over 30 years, and studied with numerous artists in workshops and classes both in Arkansas and Washington DC. This award-winning artist is currently represented by Butler Center Galleries in Little Rock.
Caren is a Mother of two children and MiMi of eight grandchildren. She is a retired Craft Care Specialist of Help Hospitalized Veterans and has enjoyed many years of sharing her love of both arts and crafts with veterans at VA hospitals in Little Rock, North Little Rock, and at Walter Reed Army Medical Center, Washington DC. Caren retired in 2013 and moved back to Conway and is looking forward to having more time to devote to making and teaching art. She can be reached at 501-786-1424 or [email protected] .