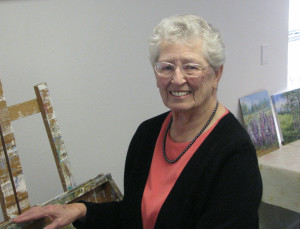 Bonnie Hookman is the featured artist at the Fairfield Bay Library. This one woman show is sponsored by the North Central Arkansas Artist League, in conjunction with the library, and will hang through through April. Bonnie majored in art education at the University of Central Missouri and studied at the Kansas City Art Institute. Though her career path led in other directions, she has always found time to paint. Bonnie and her husband, Jim, travel extensively and she records their memories on the spot. The Hookmans are property owners of many years in the Bay and have been permanent residents for 25 years.
Bonnie and Melva King collaborated in painting the 4 foot by 16 foot mural, installed June 8, 2000, over the Chamber of Commerce entrance. It depicts scenes in the Bay. Bonnie accomplished a 3 foot, commissioned mural for Rockbridge Resort in Rockbridge, Missouri and a depiction of Clinton, Arkansas (as it was in the 1920s) for Simmons Bank in Clinton. She is often commissioned to paint travel memories, homes (past and present), and Arkansas scenes. Bonnie delights in painting these commissioned works from her studio in the Bay. Her work can be viewed in various venues of the North Central Artists League in the area.
The exhibit can be viewed through April at the Fairfield Bay Library during regular hours: Mon. Tues. and Thurs. 1-4 p.m.; Wed. and Fri. 10 a.m. – 5 p.m. and Sat. 10 a.m. to 12:30 p.m.
To purchase a painting call or contact Joan Bland NCAAL Exhibition Coordinator at 785-979-5193.