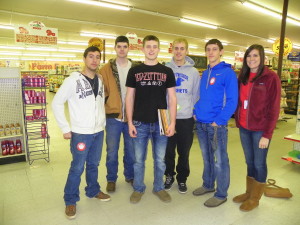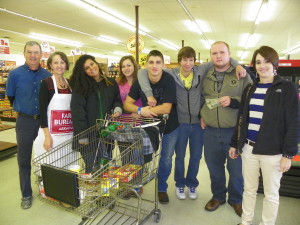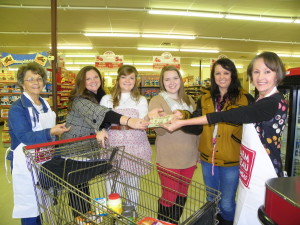 The annual Van Buren County Farm Bureau Holiday Menu Contest was held on November 13, 2013 at Thriftway Foods in Clinton. Clinton, Shirley, and South Side High School FACS classes participated. This annual event was sponsored by the Van Buren County Farm Bureau Women's Committee.
This year's first place winning team was South Side High School, (Top) (Garrett Collums, Will Pennington, Zac Capps, James Bramlet, and Wade Bradford). First place winners received an additional $30 for their FACS Department.
Shirley High, (middle), (Justin Seigrist, Thabata Vez, Michael Fowler, Makayla Porter and Justin Schultz) and Clinton High, (Bottom), (Katie Willingham, Rebecca, Willingham and Briana Ragland) tied for second place.
The contest is designed to give students real life experience with planning and shopping for a holiday meal on a budget. Prior to the contest, students work in the classroom in teams to plan an attractive and nutritious meal for a family of 4 with only $30 to spend for the entire meal. They prepare artistic and detailed menu portfolios that share their final menu, food preparation tasks, recipes, shopping list and estimated costs of individual food items needed.
One team from each school is selected by their teacher to advance to the county competition. When the teams arrive at Thriftway, they are given $30 and will actually purchase the items for their menu. They are allowed and encouraged to use coupons, take advantage of store specials and use quality off brands that are cheaper. The goal is not to see who can spend the least amount of money but who can get the most "bang for the buck" and to remember that this is a special Holiday meal with all the frills their budget will allow. They are judged on nutritional content of the meal, meal appeal, teamwork and their menu portfolio. The teachers and students can choose to keep the groceries to cook in their classroom or donate them to a needy family. Teachers for the participating schools are: South Side: Lori Rooney; Shirley: Brooke Loter; and Clinton: Valerie Lawson.