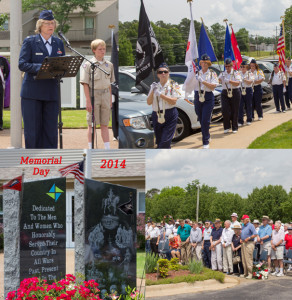 Over 200 people attended the annual Fairfield Bay Memorial Day Ceremony on May 26 held at the Veterans Memorial at City Center.
The pageantry of the Knights of Columbus Honor Guard, the VFW Auxiliary District 6 Color Guard and the VFW/American Legion Combined Honor Guard, along with the assistance of the Fairfield Bay Boy Scout Troop, made this another celebration of thanks and a special honor to those who have fallen in service to our nation.
Our living veterans, those currently serving, their family members and our first responders were honored and respects were paid by the laying of a wreath in front of the veteran's memorial by World War II Marine Corp veteran, Erling Rassmussen, a survivor of the battles of Tinian, Saipan and Iwo Jima.
Thanks and appreciation must be given to Emcee LtCol (Ret) Deb Ivanor for her masterful job of keeping the program on track and on time. The Kirk of the Hills Men's Club prepared their delicious hot dogs, The Little Red Restaurant provided their excellent cole slaw and American Legion Post 333 added ice cream to make a great community picnic to complete the ceremony.
Many thanks to all who participated and who helped with the event. Although this is a City of Fairfield Bay event, it would not be possible without the work of Veterans of Foreign Wars Post 4513 and their Auxiliary and American Legion Post 333 and their Auxiliary as well as all those already mentioned. Thanks also to Lee Phillips for his outstanding photographs provided to the Fairfield Bay News.