AP Staff Writer Hopalong Cottontail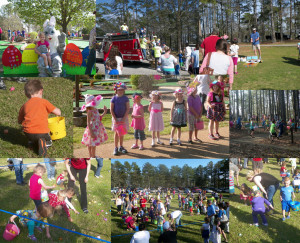 With the help of some dedicated volunteers and staff, this year's Fairfield Bay Easter Egg Hunt on April 12, from 4 – 6 p.m. was a splendid event. Although it was a little windy, the temperature was perfect and the sun was out, along with droves of kids and families excited to enjoy the spring weather. The Easter Bunny was his usual happy and hoppy self, sitting for pictures with the kids – and the occasional adult – for the first hour, while Fire Chief John Evans and the volunteer firemen treated the children to the ever-popular rides on the fire truck.
Many kids enjoyed the new offering of Otto's Egg Toss bean-bag toss game, in which they could win prizes, such as free ice cream at the Clinton SONIC, Frisbees, and coloring books. Also available throughout the entire event was free miniature golf for everyone and a new stick-your-face-inside photo-opportunity of two cute bunnies. The bean-bag game was built amazingly fast by Leszek Otto and painted beautifully by Pamma Henderson, as was the bunny photo cut-out. The ubiquitous Kirk of the Hills Men's Outreach group was there as always, supplying hungry visitors with their delicious hot dogs and all the trimmings.
Around the midway point, we kicked of the inaugural Easter Bonnet Parade and Contest to the sounds of the Easter classic "Easter Parade." We had a group of excited young girls who lilted up and down Fifth Avenue (well actually, the sidewalk) displaying the beautiful and exotic creations atop their heads. The judges awarded prizes for Prettiest, Funniest, Most Creative, and several Honorable Mentions. The girls had a delightful time as was evidenced by their smiling and giggling countenances and we hope to have many more entrants joining them in the upcoming years' events. We hope for this to be an exciting yearly tradition which proudly blossoms with the creative designs of our locals.
The actual egg hunt, as always, was the high point and finale of the event. All the young hunters zigged, zagged and scurried through the original putt-putt course and open grass near the pavilion, scooping up more than 3,500 candy-filled eggs in about 10 minutes. The participants ranged in age from under-one to 10-years-old, but all seemed equally exuberant during the fast-paced action of acquiring the sugary bounty.
As was mentioned before, we had a small group of volunteers who assisted the staff tremendously in preparation for the event. They helped fill eggs, helped clean and decorate the park, and helped with various tasks during the event. Without their generous assistance, the Hunt would not have been the event that it was! It was a joy to see all the attendees delighting in the festivities, and a proud moment for all who shared in the effort, knowing that they had played a part in this wonderful tradition.