Clinton Funeral Service has acquired a therapy dog. This concept may be new to some people, but therapy dogs have been around for about 60 years, said Darriel Ezell, co-owner of Clinton Funeral Service.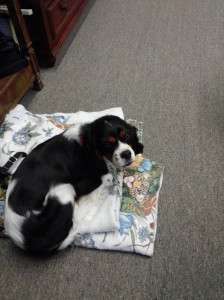 Ezell said that the idea of therapy dogs started in World War II as a way of lifting the spirits of troops and the wounded. Dr. Mayo, of the Mayo Clinic fame, is the individual that saw how a visiting soldier's dog lifted the men's spirits and actually promoted the healing process in the wounded soldiers.
Mollie, a 2 year old King Charles Spaniel, is currently training to become a certified Therapy Dog. Her testing includes obedience commands, not being afraid of objects she may encounter, such as hospital equipment. Her training also includes the recognition of grief and to comfort those around her.
Dogs have helped people with Alzheimer's, cancer and people recovering from surgery. They have helped children with learning disabilities or autism. Therapy dogs have even been used in dentist offices to help patients that are afraid of the dentist chair. " With this concept, we have brought a therapy dog into the funeral home. If there ever was a place to promote healing, this is it", said Ezell. Darriel went on to say, "I know of nursing facilities and doctors offices that have therapy dogs, but I do not know of any funeral home, anywhere around, that has one. We are the first in our area to offer this type of care to our families. The best medicine always wags its tail."
Mollie is available to visit schools, nursing centers, and churches FREE of charge. Please feel free to contact Clinton Funeral Service about this or stop by and meet Mollie.