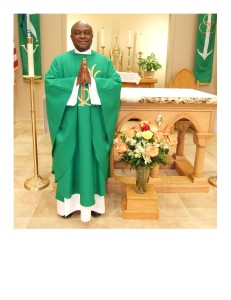 A sense of excitement permeates the air as members of St Francis of Assisi Parish, in Fairfield Bay and St Jude Parish, in Clinton busy themselves with plans and preparations to celebrate the 25th anniversary of Father Oliver Ochieze's priesthood. Father Oliver, as he is called by his parishioners, was ordained on September 4, 1988 in Orlu, Nigeria. When asked about his memories of that day, Father replied, "My entire family and our community attended the ordination. I felt great joy but a touch of fear also because I did not know where I would go, or what might happen."
Father's early life is somewhat typical of many young catholic boys. He was the middle child of Patrick and Theresa Ochieze's nine children. Oliver's father, Patrick, was the headmaster of St. John's Grammar School and young Oliver attended this school. At age ten, Father Oliver began serving mass, even though it meant a long walk each morning from his home to the church. It was while serving as altar boy, inspired by the music and singing, that he first felt the pull to the priesthood. After completing grammar school, he attended high school at Minor Seminary and completed his theological education at Bigard Memorial Seminary. After his ordination in 1988, Father earned advanced degrees in moral theology and education from the Catholic Institute of West Africa. He has also earned a master's degree in rehabilitation counseling from the University of Arkansas at Little Rock and a doctorate in pastoral counseling from the Graduate Theological Foundation in Indiana.
Father Oliver settled into an idyll pastoral life among his family and countrymen in his home diocese in Africa, unaware that the reason for the touch of fear he had felt on his ordination day would soon be revealed. In September 1999, Father Oliver was reassigned to Arkansas, along with a fellow Nigerian priest, Father Linus Ukomadu, at the request of Bishop Andrew J. McDonald, then Bishop of Arkansas. Although he had neither requested nor expected to leave his native country, Father Oliver accepted the assignment, although with a touch of uncertainty about life in the United States. After assignments to St. Mary and St. Patrick churches in North Little Rock, he spent time at churches in Fordyce and Sheridan before coming to Van Buren County in 2008 to shepherd St. Francis and St. Jude parishes. Father arrived just in time to oversee the fund-raising and rebuilding of the church at St. Francis of Assisi.
On September 4, 2013, St. Francis and St. Jude parishioners, along with Bishop Anthony B. Taylor, will celebrate Father Oliver's 25th Jubilee, beginning with mass at 4 p.m. at St Francis of Assisi Church in Fairfield Bay. Following mass, the public burning of the mortgage for the remodeling of St Francis Church will take place outside the hall. The celebration will end with a dinner for parishioners of both parishes and invited guests in the St Francis fellowship hall at 5:45 p.m.