Ten volunteers have been named ambassadors in a new Tri-county Extension Wellness Program, including Conway, Faulkner, and Van Buren counties. This pilot volunteer training program was based on the Master Gardener program model of learning in exchange for community service, which has been successfully conducted in Arkansas.
"These ambassadors are tasked with helping encourage others to live healthy habits," said Lisa Washburn, assistant professor –health, for the University of Arkansas System Division of Agriculture. "The Extension Wellness Ambassador Program equips volunteers to make a positive impact on their communities by helping others live healthier lifestyles," she said. "We are proud of our first group of Wellness Ambassadors and look forward to their work to improve health in Arkansas."
Van Buren County Extension Wellness Ambassadors include Peggy Aday, Lynne Corcoran, County Judge Roger Hooper, Lori Linn, Greg Munson, Carl Trahan-True, and Jan Vandygriff. Van Buren County Extension Agent Regina Chaney will act as an advisor for the Ambassadors in conducting their projects and planning future activities to improve community health.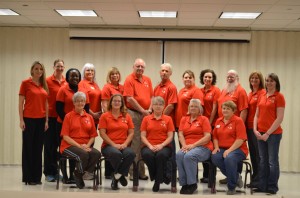 Wellness Ambassadors received 40 hours of training in health, nutrition, and physical activity over a five-week period. As part of the program, they will give back at least 40 hours of volunteer service to help others live healthier lifestyles. Throughout their training, ambassadors worked with their county's Family and Consumer Sciences Agent to identify community needs and plan a project to address health issues.
"The Extension Wellness Ambassadors have already expressed how this program has improved their lives and they are eager to begin conducting programs to improve the lives of Van Buren County residents. We are all excited about the opportunities this program will provide for our local community" shared Regina Chaney.
Wellness Ambassadors will work on projects targeting their communities. Planned projects include expanding Extension fitness programs, developing a clearinghouse of community health resources, and ensuring healthy foods are available at local food pantries. As volunteers for the University of Arkansas Cooperative Extension Service, Wellness Ambassadors will extend the reach of extension educational programs focused on improving health.
Additional Extension Wellness Ambassador Trainings are planned for 2014. For more information, contact Regina Chaney, Van Buren County Extension Agent—FACS/4-H at 501.745.7117 or [email protected]
The Cooperative Extension Service is part of the University of Arkansas System Division of Agriculture and offers its programs to all eligible persons regardless of race, color, national origin, religion, gender, age, disability, marital or veteran status, or any other legally protected status, and is an Affirmative Action/ Equal Opportunity Employer.