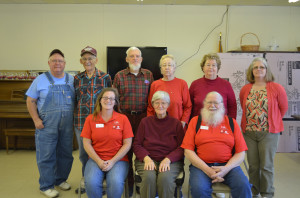 As a part of the University of Arkansas Division Of Agriculture, Research and Extension's Wellness Ambassador Program (EWAP), we are offering at the Shirley Senior Center, an exercise, nutrition, educational program on how to get healthy, stay healthy and Be Fit for Life.
This involves but is not limited to exercise, education on diabetes, label reading and healthy eating habits versus unhealthy eating habits. This program is based on science not just "whims" or "fads." The exercises and education is open to everyone. There in no age limitation-everyone can do something to get healthier-decrease salt intake, limit sweets and fats, exercise a few minutes a day, and learning how to prepare healthier meals.
The cost is $12 a year. Currently, there are 21 participants and room for more. We meet on Wednesday and Friday at 10 a.m. at the Shirley Senior Center. Ages range from 50 years to 90 years but all ages are welcome! Lori Linn, Carl Trahan-True and Lynne R. Corcoran, (EWAP volunteers) are conducting the program.
We are grateful to the Shirley Senior Center for their cooperation, kindness and graciousness in loaning us their space for fun, exercise, nutrition and how to get more from life through better food habits and exercise.
This program is open to all eligible persons without regard to race, color, national origin, religion, gender, age, disability, marital or veteran status, or any other legally protected status. Persons with disabilities who require alternative means for communication of program information (large print, audiotapes, etc.) should notify the county Extension office as soon as possible prior to the activity.
If you have questions, please feel free to call the Van Buren County Extension office at 745-7117.