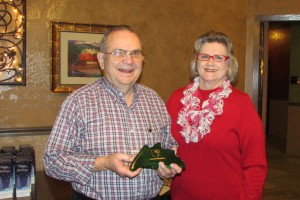 Hippe Recycling Center's John Edmiston is awarded the White River Solid Waste District "Friend of Recycling" award on December 5 for 28 years of service in recycling.
At a North Central Arkansas Recycling Forum in Batesville on December 5, John Edmiston of Fairfield Bay was honored for his twenty-eight years as a volunteer in establishing and helping to grow the recycling program that is now the Hippe Recycling Center in Fairfield Bay. The second ever "Friend of Recycling" award was presented to Edmiston by Sarah Sexton, Recycling Coordinator for the ten-county White River Regional Solid Waste Management District that includes Van Buren and Cleburne counties in its service area. Edmiston was honored by twenty-five recycling managers and elected officials in attendance at the meeting.
Edmiston started with the Fairfield Bay recycling program with aluminum can recycling in 1985, shortly after he and his wife relocated to Fairfield Bay. The program grew from a small metal shed in what is now Woodland Mead Park in Fairfield Bay to its present 3,600 square foot facility at 150 Garden Lane, that includes a newly constructed outdoor recycling education park for community and youth education programs. The drop-off-only recycling program is on track to process 250,000 pounds of recyclables by year end 2013. The Hippe Recycling Center, a partner facility with the Van Buren County Recycling Center in Clinton, maintains a volunteer force of 50-60 people throughout the year and is recognized across the state for its success. John Edmiston was honored at the Recycling Forum for his long-standing support and for being a positive force behind the Center's success.