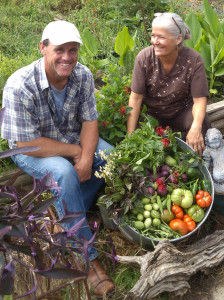 Are you ready to come out of the hibernation of winter and spring forth into the new you? Are you tired of feeling under-par, tired and dragging, and not knowing why? Not knowing where your food comes from, what kind of pesticides have been used on it or even whether it has grown from (GM) genetically modified seeds, can all play a part in how your food intake can affect you; mentally, emotionally and physically. Wouldn't it be great if we could once again enjoy the luxury of biting into a juicy, ripe, home-grown, all-natural tomato that actually tasted like a real tomato. Now you can.
Aliza Yarden-Cummings of The Gathering Place @ Meadow Creek, where being keepers of the land is not just a job but a life mission, will be appearing at the Fairfield Bay Library on April 23 @ 1 p.m. to talk about the importance of eating healthy and why so many people are going back to supporting their local small farms and participating in CSA (community share agriculture) investments.
Tim and Aliza recently relocated their farm and herb business to Meadow Creek in Fox, AR and will be delivering fresh, certified- naturally-grown produce to the Bay every Wednesday from 10 a.m. to 2 p.m. from May to October at the Community Market. They grow a large variety of unique heirloom and traditional vegetables and also offer an array of culinary and medicinal herbs. Make it a point to stop by to see what exciting things they have to offer. To know your farmer and where your food comes from is the first part of becoming responsible for healthy living.
The Gathering Place also produces and sells a variety of value-added products such as healthy Herbal Oils, Spices, Soaps, Teas, Soups, Cold Formulas, Extracts, Essential Oils, Tinctures, Tonics, Chutney, Pesto, Chow Chow, and more. To learn more about The Gathering Place, like them on Facebook, find them on Localharvest.com and Certified Naturally Grown. In addition, they offer farm tours, various training sessions and special events. Feel free to call for events schedules, reservations or more information @ 870-363-4227.
The Gathering Place is part of a growing network of CSA farms, where people can invest in the future of their food supply. Just as one invests in the market to share in a future profit, you can commit to investing in a CSA to share in the harvest of that farm. To purchase a full share, (enough to provide produce for a family of four) for the full 25 weeks of the growing season is $500 which is a $125 saving or you can pay $25 weekly. Another option is a half share (enough to provide produce for two people) for $375, a $125 saving, or you can pay $20 weekly. As with anything in nature, crops may thrive or suffer, but all yields will be distributed equally among shareholders. Deliveries will be made weekly for pick-up at the Community Market from 10 a.m.-1 p.m. While cash/check is always preferred, debit or credit cards can be accepted when wireless access is available. Payment plans are available upon request when making your reservations. Reservations must be made up front for your vegetables to be held for pick-up.
We look forward to building a relationship with our Fairfield Bay neighbors. The Gathering Place @ Meadow Creek is located at 5683 Meadow Creek Road in Fox, Arkansas 72051. Phone: 870-363-4227. Email: [email protected] Web page: www.thegatheringplace7.com.