photos courtesy of Brandy Vandygriff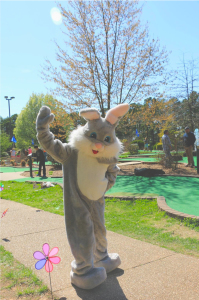 Saturday, April 4 was an exciting day here at the Annual Easter Celebration here in Fairfield Bay. We had ordered beautiful weather and it arrived right on time. The park was beautifully decorated with flowering trees, twirling pinwheels and Easter characters. Approximately 4,000 eggs stuffed with candy and prizes were quickly found by area youth, ages 0-12. The day also included free mini-golf, free kid games and free fire-truck rides. A little extra excitement was provided by a prize table which was placed on the 18th hole. The Kirk of the Hills men came and added to the festivities with their famous "Brat" hot dogs. Thank you, guys. They were outstanding!!
The Fairfield Bay Volunteer Fire Department excited the kids with free fire truck rides and few of their volunteers even assisted the Easter Bunny in hiding the eggs for the kids to enjoy. They not only brought a regular fire truck for youth to ride but they also brought a ladder truck for everyone to see. The ladder was extended and it was an impressive sight. We heard comments from area residents that they hadn't realized before that Fairfield Bay had such an awesome truck! It was a real treat just to see it. Thanks guys, we do appreciate you!
The best part of the celebration for us was your participation. We were absolutely awed with some of the cutest kids in the state. The Easter Bonnet Parade and the Easter Bunny brought smiles to the faces of both the young and old.
We want to thank everyone who attended and everyone who assisted with the celebration in any way. It takes everyone working together to make it a success.