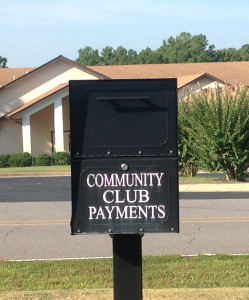 As you are aware, the Community Club offices have now moved to 337 Snead Dr. in the Fairfield room which has been converted to office space.
The Club has had a dropbox for payments in the parking lot at the senior center for sometime now. To make it more conveneint for you we recommend putting your monthly dues in the dropbox and it will be checked every morning.
If you decide to come and make a payment at the new location or just coming into see the new office space, we recommend you stop and have lunch at the Top of the Rock while your visiting.