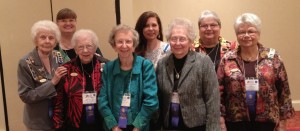 The Arkansas Society of the Daughters of the American Revolution held its 106th Annual Conference at the Doubletree Hotel in Little Rock March 13–15, 2014. Pictured are the members of the Little Red River Chapter who attended, Lois Rickman, Lea Kemper-Cash, Ruth Rasmussen, Lea Berry, Kim Walker, Janet Small, Mona Diles and Jo Lee Larsson. Lois Rickman is Vice President of the Chapter Regents Club.
Michelle Mattera, a member of Enoch Crosby Chapter in Carmel, NY, came to be a Page, and she and her grandmother, Jo Lee Larsson, attended the Cameo Society Luncheon. The Cameo Society promotes understanding and fellowship between generations and encourages the passage of genealogical information, family histories and patriotism to subsequent generations.
The highlight of the conference was the Wounded Warrior Banquet on Friday evening. The speaker was Corporal Aaron P. Mankin, USMC Combat Correspondent, Operation Iraqi Freedom Veteran. Corporal Mankin has endured 69 operations to rebuild his face, throat and hand from intense burns over 25% of his body. He has the most positive attitude of anyone you could meet. He received a long, standing ovation from the Daughters.