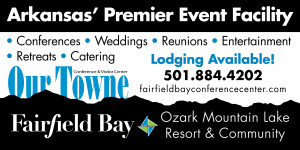 The Conference Center has a new billboard in place in Greers Ferry. The board is located on eastbound Highway 16 as you near the Dollar Store, alerting all travelers of yet another great reason to visit Fairfield Bay.
This board is made possible by the generosity of the FFB realtors. The City funded the production and installation of the board and TaylorMack, our marketing firm, donated the creative to make this board a reality.
The FFB realtors join with the Club to provide the monthly rental costs of this board, which shares the panel adjacent to the "Someday Starts Today" board on westbound Highway 16. Please be sure to thank the local realtors for their continuing support. 2013 was an exciting and productive year for the Bay. Contributions like this pave the way for continued growth as we enter the new year.
Happy New Year!
Community Club Board of Directors
Dwayne Miller