by Jonathan Peters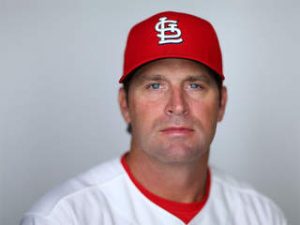 Cardinal fans of all ages filed in to the Searcy High School Performing Arts Center on January 19, 2017. The reason that all these fans braved the fog and the rain, Mike Matheny, former Cardinal Catcher, and Current Manager. Matheny was in town speaking about "The Power of Teamwork." Unity Health and First Security Bank sponsored the event along with several other smaller sponsors to celebrate Unity Health's 50 years of operation and to promote teamwork among their staff and community. Matheny was the perfect guest speaker for this topic. Matheny was named the 49th manager in St. Louis Cardinal franchise history on November 14, 2011. Matheny, 45, is in his fifth season as a manager at the professional level. He served as a Special Assistant in Player Development for the Cardinals prior to being named manager.
In his first four seasons as Manager of the Cardinals, Matheny has led his team to the playoffs every season, securing a Wild Card spot in 2012, Central Division titles in 2013, 2014, and 2015 and a National League Championship in 2013. He has already managed 43 postseason games, as the team fell one win short of making it to the World Series in 2012 and faced Boston in the 2013 World Series, finishing just two wins shy of the Championship.
In February of 2015, Matheny published a book titled "The Matheny Manifesto", which is about coaching youth baseball with a philosophy about respect, ownership, self-motivation, and no-nonsense sportsmanship that define character displayed on a playing field. The book shares his views with players, parents, and coaches on how to work together. After 24 years working with some of the best coaches, mentors and players in the world, Matheny said he couldn't help but share what he's learned over the years.
Matheny follows a very simple philosophy—Education, Discipline, Grit, Energy, and Selflessness — EDGES as he refers to it. "I'm here to share, not preach." Matheny began, "I don't have it all figured out. This speech is not for those that are okay with being mediocre." He presses for the best in his team, for them to be great instead of just good. Of the five things needed to succeed, Matheny stressed that the last one was the most important, to serve others and do the right thing. As a spiritual person, a follower of Jesus Christ, Matheny strives for the best in all aspects of his life: his family, his wife, and his team.
He spoke of Spring Training and what he looks for in the 60+ kids that show up to hopefully make their Major League dreams come true. He broke each component down and spoke of how important each was in the game of baseball and in life.
EDGES
Education, the value, the desire for a lifetime of learning.
Discipline, hard work, hustle, the first one there the last to leave. He spoke of Matt Carpenter, who wasn't at the top of any draft lists but who showed up and worked hard and for that he was rewarded.
Grit, just don't quit.
Energy, positive energy, be a light when you walk into a room.
And Selfless Service, Matheny said, "This is the glue, this is what makes the rest make sense."
As we all left he had a challenge for each of us, to be better. Better spouses, better co-workers, better parents, better team mates, "Don't waste this [life] don't waste the opportunity you have here." Matheny concluded.