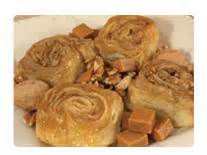 The Animal Protection League is offering a new product for Easter morning! They are PASTRY ROLLS, made of the same dough, with glaze packets, and come in 4 flavors:
Caramel Sticky Roll with caramel glaze, Orange Roll with orange/cream cheese icing, Walnut Sticky Roll with maple glaze and Blueberry Roll with blueberry/cream cheese icing. Each roll is approx. 2-3 oz. The rolls come frozen in a pack of 9, but you are able to break off what you wish to proof and bake. And, they can be baked in your toaster oven! Each package is $12.50, with the Shelter receiving $5.
Ordering will begin Feb.27 and end Mar. 19. I'll be placing the final order Mar.21. Pick up will be April 5 at Woodland Mead Park during the Dog Show, sponsored by the Laureate Alpha Lambda chapter of Beta Sigma Phi.
Although the pastries will be available for sale at the park, PLEASE PRE-ORDER !
Order forms will be available at Hart Center, DPS, the Library, Wear and Share, the shelter, Newspaper office, through Gail McKnight (884-6514), Mary Martin (884-6811) and please feel free to call me, Linda Ritchie (884-3396) Additional locations will be published.