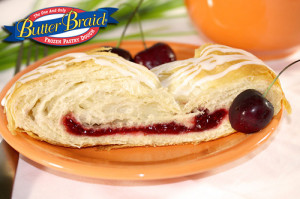 Due to popular demand, the Fairfield Bay Animal Protection League, i.e. the FFB Animal Shelter, is again offering delicious Butter Braids for our end of the year fundraiser !!! Sales officially begin Oct. 8, but we will be taking orders now, if you'd like. Currently, order sheets are available at the Library, Hart Center, City Hall in the Newspaper Office, Wear and Share, Mary Martin's Beauty Salon on Kim Rd next to Wear and Share, Regions Bank, the Shelter, Reflections Salon, and Sophicuts in Hwy. 16. Further locations will be published next week. Please feel free to call me, as well, at 884-3396.
Butter Braids are a delicious, frozen pastry that can be thawed overnight on a cookie sheet, and oven ready first thing the next morning, for those cold winter mornings, as well as Holiday breakfasts or desserts served to your family and friends who visit. Each pastry is 22 oz. and comes in 5 yummy flavors: Apple, Strawberry Cream Cheese, Cinnamon, Cream Cheese and Bavarian Crème with Chocolate Icing. Each pastry also has an icing packet to drizzle on top after cooling to give it a festive appearance and flavor . They can be kept frozen for up to 6 months; I still have some in my freezer from our last Spring sale!
Each loaf sells for $12.50 of which the Shelter receives $5.00. In the past we have been able to fund needed building repairs as well as help fund our new air conditioner-heat pump, installed early this summer. We greatly appreciate all of you who have participated in previous events, and hope you will support us again. Our plan for this year is to relocate our Cat Hotel to another room within the shelter. This room has a large window with a wide sill so the kittens and cats can sit in the sun and watch the goings-on outside ! We'll have cute animal pictures, shelving and open, mounted wall boxes for them to play hide and seek. In the future, we hope to have a private "run" for our wonderful dogs and puppies. We continue to spruce up surroundings for our animals, making it a pleasant place while they wait for their "forever home!"
Again, Butter Braids are now available for pre-purchase. The orders will be closing Oct. 30. The product will be ready for pick-up early in November, which will be at Jack's. Further details will be forthcoming in the paper, but don't hesitate to call me with any other questions or concerns. You WILL have your pastries in time for the Holidays !!!
Thank you !!!
Linda Ritchie APL Board Member 884-3396