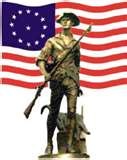 When the initial battles of the Revolutionary War broke out in April, 1775, few colonists desired complete independence from Great Britain, and those who did were considered radical. By the middle of the following year, however, many more colonists had come to favor independence, thanks to growing hostility against Britain and the spread of revolutionary sentiments.
On June 7, when the Continental Congress met at the Pennsylvania State House (later Independence Hall) in Philadelphia, the Virginia delegate, Richard Henry Lee, introduced a motion calling for the colonies' independence. Amid heated debate, Congress postponed the vote on Lee's resolution, but appointed a five-man committee–including Thomas Jefferson of Virginia, John Adams of Massachusetts, Roger Sherman of Connecticut, Benjamin Franklin of Pennsylvania and Robert R. Livingston of New York–to draft a formal statement justifying the break with Great Britain.
On July 2, the Continental Congress voted in favor of Lee's resolution for independence in a near-unanimous vote (the New York delegation abstained, but later voted affirmatively). On that day, John Adams wrote to his wife, Abigail, that July 2 "will be celebrated, by succeeding Generations, as the great anniversary Festival" and that the celebration should include "Pomp and Parade…Games, Sports, Guns, Bells, Bonfires and Illuminations from one End of this Continent to the other." On July 4, the Congress formally adopted the Declaration of Independence, which had been written largely by Jefferson. Though the vote for actual independence took place on July 2, from then on the 4th became the day that was celebrated as the birth of American independence.