Bob Chaloupek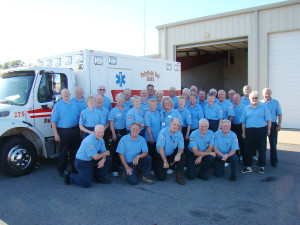 Have you ever considered being part of a team that provides one of the most important services in the community? If so, there's a perfect place for you – the Emergency Medical Service. The EMS team is an all-volunteer organization that serves the Fairfield Bay community. The team staff's two ambulances around the clock, every day of the week. Currently, the EMS squad is looking for team members who would like to serve as Second Medical or Drivers.
Each ambulance has a team of three; the Emergency Medical Technician, in charge of the team, a Second Medical, and a Driver. The Second Medical helps the EMT care for the sick or injured and is responsible for recording information pertaining to the ambulance run. They also are responsible for collecting and recording medications and insurance information. The Driver, of course, is responsible for safely transporting the sick or injured to the hospital. They also help the EMT and the Second Medical by managing the gurney and other equipment used in the care of the patient.
No need to worry if you haven't had any previous experience. The EMS provides effective training for all team positions. Along with the training provided, continuing education sessions are conducted monthly. If you have had experience as a licensed nurse or physician, the EMS would ask you to consider joining the team as an EMT.
The most important thing about being an EMS team member is helping the people in your community and the deep sense of accomplishment you feel. In addition, there are many social opportunities with other team members who share the common commitment to serve their community.
"The community is best served by having a well-trained team ready to help in the event of a medical emergency," says EMS Captain Bob Chaloupek. If you have a desire to be a part of this team or to learn more call Bob at 884-6006, or ask any EMS team member about this exciting opportunity.