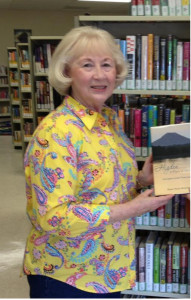 On Friday, June 6, 2014, author Karen Potter Murphy will be at the Fairfield Bay Library to sell her book, Higden…A Place in the Heart Life Before Greer's Ferry Lake. The event will be held from 1 p.m. until 4 p.m.
The author was born Jan. 4, 1945, in the family home at Higden, Arkansas and is of the last pre-lake generation to reside there. She and her family were among the area residents who were forced to relocate because of the construction of Greer's Ferry Lake.
After moving from Higden, Karen graduated high school at Valley View High School, Jonesboro, Arkansas. She later attended Lee University in Cleveland, Tennessee, and Arkansas State University in Jonesboro, Arkansas. Her studies were focused on English, Speech, and Business.
Karen and her husband, Charles M. Murphy, resided in Memphis, Tennessee for over 35 years where they had an insurance agency. Now retired, the Murphy's reside in Knoxville, Tennessee, where they enjoy spending time with their daughter, son-in-law, and grandchildren.