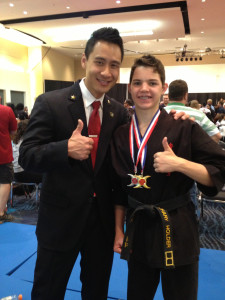 Fourteen-year-old, 1st degree black belt, Zachary Holder, of Greers Ferry, claims the title of 2013 World Champion in Xtreme Martial Arts Form. XMA is a fusion of all martial arts styles blended together with performance, high flying acrobatic maneuvers, tricking and gymnastics. Holder trained for the event at XMA world headquarters in North Hollywood, California. He was coached by Mike Chat, 7-time World Forms and Weapons Champion and former Blue Power Ranger.
Zachary competed throughout the year, traveling to 11 states across the country. After earning State and District Championship titles, he was eligible to compete in the prestigious year-end "Tournament of Champions." This year end championship consists of ATA's top martial artists worldwide.
Along with winning the gold medal in XMA Forms, he won three silver medals in Traditional Form, Traditional Weapons and Xtreme Weapons. He is currently a student of Arkansas ATA Martial Arts in North Little Rock, Arkansas.