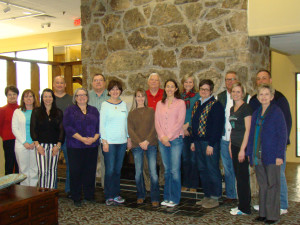 On August 27, 28 and 29 the Arkansas Leadership Academy was our first conference group to use our new Conference Center. Mr. David Cook, the new president of the ALA, elected to have his staff retreat here in Fairfield Bay. Mr. Cook remembers the Fairfield Bay Conference Center as an excellent location for their specialized training.
Mr Cook and six of his support staff arrived on Monday January 27 for a tour of our facility. Everyone was impressed with the Conference Center and all that it has to offer. When we told Mr Cook and his associates about all of the community involvement, the donations and all of the volunteer hours, they found it hard to believe. We are now within $10,000.00 of reaching our goal of $180,000.00. One of the fun features everyone enjoyed while at the center was the beautiful fireplace. Not only was the glow of the fire enjoyed during the day but added warmth and fun to our very cold evenings.
The folks attending the retreat were housed in several venues while here with us. We used Time Share Units at the Fairways, Condos at the Chelseas, Units at Summer Hill Place and also the Villas. This gave the organization a chance to experience different venues for future conferences and retreats. The Arkansas Leadership Academy has a long history of doing business here in Fairfield Bay and we look forward to rebuilding that relationship.