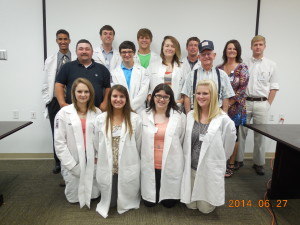 Back row left to right: Marquis Perkins-Landon, Ryder McGaha, Harrison Lester, Blake Baker, RN Carla Roberts (Ozark Health MASH coordinator) and Nathan Armstrong (summer intern). Middle row left to right: Stephen Matthews (VBC Farm Bureau president), Tanner Jones, Alexus Stutzman and James Kelley (Searcy County Farm Bureau President). Front row left to right: Haley Roberts, Halee Hillyer, Chelsey Watts and Sheyenne Jones.
Ten students recently completed the annual, June, two week MASH Program held at Ozark Health Medical Center.
Who are our local students interested in a health related profession?
Haley wants to become an emergency room nurse.
Radiology appeals to Chelsey.
The speech therapy field looks attractive to Marquis.
Blake and Halee want to practice "rural" medicine.
Harrison finds being a surgeon enticing. Not the case for Tanner who says, "I can't cut on someone." Currently he is unsure which field he wants.
Sheyenne was blown away by the neo-natal unit at UAMS.
Both Alexus and Ryder think the emergency room is the medical challenge they are seeking.
This is the thirteenth year that Ozark Health has hosted this summer enrichment program that exposes high school students to the many career opportunities available in the health-care field. MASH, which stands for Medical Application of Science for Health is a UAMS facilitated program hosted by hospitals around the state.
"We had a really great group of young students this year," said Ozark Health's MASH coordinator, Carla Roberts, RN. "They were all so eager to learn and they all picked up on things very quickly. I hope to see several of them back in the community as colleagues in a few years," said Mrs. Roberts.
MASH exposes the students to the different careers in the medical field and introduces them to medical procedures and terminology. The students, after health and privacy rules and safety training, participated in job shadowing in the various departments. They learned about filling a prescription, taking an X-ray in the Radiology Department; performing pulmonary function testing and breathing treatments in the Respiratory Department; scrubbing techniques and observing surgical procedures in the Surgery Department; restoring a patient's balance in Physical Therapy along with many more activities.
The students were also able to participate in lots of hands-on activities to learn medical procedures, including suturing a wound, casting a broken bone, dissecting a heart, reading X-rays among other activities. A few of the guest speakers included Dr. Kyle Hensley discussing Oral Health and Cranial Anatomy; Dr. Wallace demonstrating setting a cast; Staff from Southern Paramedic Service and Air Evac highlighting emergency procedures; Dr. Keith Coward leading a heart dissection procedure; Amber Files of the Arkansas Children's Hospital Burn Center discussed her hospital's unique offerings for burn patients; Dietitian, Monica Hunt discussed dietary management; and Dr. Steve Schoettle instructed suturing techniques on a chicken breast. The students also participated in activities designed to increase their knowledge and awareness of teen health issues, such as drinking and driving, smoking, and healthy lifestyle choices. They made a field trip to UAMS in Little Rock to the Spine and Neuroscience Institute.
While there they toured the Neonatal unit and the School of Pharmacy Laboratory. They participated in various chemistry compounding experiments using burners to melt and mix ingredients. While they could not experiment on compounding actual medications, they could simulate the chemistry experiment by making hand soaps, sugar exfoliate scrubs, chap stick, shaving cream and other personal care items which they took home with them.
The students received certificates of completion at a luncheon graduation ceremony held in their honor. The parents and students received information on educational opportunities available in Arkansas including information on financial aid. They also received information on the scholarship opportunities available through Ozark Health Foundation and Farm Bureau.
Stephen Matthews, Van Buren County Farm Bureau president was a guest speaker at the ceremony. "Why is Farm Bureau interested in financially supporting the MASH Camp?" he asked. "Living in rural Arkansas our farm members want to have quality health care available here close to home. We don't want to have to drive to Conway or Little Rock if we have a medical emergency. We see an opportunity to support the bright, talented youth like you, right here in our own community. We want a local job waiting for you when you finish your education –whatever health-care field you might choose."
MASH is offered free of charge to students and is facilitated through UAMS. One goal of the program is to help meet the growing need for health care workers and providers, especially in the rural areas. We had students representing four rural communities and four high schools in and around Van Buren and Searcy County this year. We hope that if these students do choose a health care career, they'll one day return to this area to work or practice. If you are a junior or senior and meet the education criteria, apply during February and March through your high school guidance counselor. This is a popular program and slots for MASH are limited.
MASH sponsors include Farm Bureau, UAMS, Baptist Health, Blue Cross/Blue Shield, Department of Human Service -Office of Oral Health, and the Arkansas Medical MentoringPartnership.