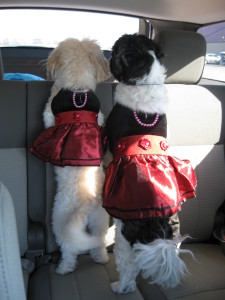 Owner: Toni Kaiser
Name: Bella Rose – Breed: Shi Szu
Name: Lucy – Breed: MaliPoo Age: 6 & 4
Hello, our names are Bella Rose and Lucy. Bella Rose is a black and white Shi Tuz and is 6 yrs old. Lucy is white malipoo and is 4 yrs old. Lucy was a rescue dog and is truely thankful to me everyday. She is so thankful she can't control her licker and kisses anyone who will let her. Bella Rose is calm and loyal to anyone she can lay her head on. This photo was taken on Christmas and we had just left a very special friends party. We had so much fun and we hated to leave.