by Bill Neel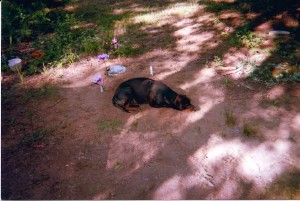 In 1999 a wild cat came to my home. She would not let me get close to her. I thought it might be good for her to be here to keep the mice away. I live at the bottom of a mountain in the Edgemont, Arkansas area. Maybe one car every two months comes by my house. The reason I put this down will be part of what happens as we continue. After a short while, she had kittens under my house. I could her them crying every now and then. A few days later the mother cat got killed. I could not see these little kittens die. I got under the house and found three kittens. They were all the same color and, later found out, they were all female. I went to the Vet in Greers Ferry and got a small bottle and found what sort of formula I needed to raise them. If she had raised these kittens they would have been wild. As time went by, I had the cats spayed. I didn't need any more pets. I named them Diana, Thomascena and Glade.
Now this may sound boring to some, but what happens in the next few years is like a movie. After awhile, Diana leaves and now it's just Glade and Thomascena. Glade demands a lot of attention and Thomas is like her mother – "wild." Thomascena has very little to do with anyone or anything. My grandson had a small puppy; it was a Chow. He moved away and I was now the owner of a puppy. To tell you the truth, I was not real happy about this. I didn't know this at the time but, later on, it would change my life.
By now, the cats were about four years old and they were not happy with this new family member. I wish I had taken pictures at the start of this relationship. It went on so many years, I really didn't think a lot about it. It was something that happened every morning for several years and at this time I never dreamed this would touch me so much. As I mentioned at the beginning of this story, I live at the bottom of a mountain in the Edgemont area. In 1995, before I had the cats or dog, I would walk from my house – pulling two steep hills to the highway (16) and back. I still walk this today in 2014. It is about a three-mile trip. I'm sure a lot of people saw me making my turn at the highway every morning to come back home. After I got my grandson's dog, Ace, after a while he started walking with me. We would leave the house about 6 a.m. and would return from our walk about 7 a,m. You could almost set your watch by it. As time went by, just as Ace would get almost home, Thomascena would be in the road to greet him. She would rub on him and Ace would go on to the house. She was there to greet him just before 7 a.m. every morning. I could not believe this. She didn't have anything to do with anybody else. One day I noticed that Ace showed Thomascena that he is glad to see her. This went on every day for years. Crazy me, I did not get any pictures of this,
In July of 2013, Thomascena and Glade died on the same day. They were about 14 years old. I guess I had done a pretty good job of taking care of them. Ace saw me put Thomascena in the ground and he tried to dig her up. I had to put cement on the grave. On the first day, he laid on the grave for about three hours. Every day after that he would visit for a while. Ace was never the same dog after this. I began to take all kinds of pictures. I took pictures of him on or near the grave. After a month or so, I got him a kitten at the Fairfield Bay Animal Shelter. At first, it didn't go too well. As time went on, he bonded with the kitten. One day I came in the house and he had the kitten between his front paws sleeping in the recliner. After a period of time, the kitten had nothing more to do with Ace. Ace started to go downhill. He wouldn't eat or drink and just lay on his pallet in the living room. I finally got him to eat a frankfurter and drink a little water. After a few days, he stopped eating again. Even as weak as he was, he would go on a walk with me. I was all torn up inside. Then on March 5, 2014, I got a phone call and as I was putting the phone away, Ace got up from his pallet and ran out the door like someone was outside. I went out to see what was going on, and just as Ace left the front door, he made a left turn toward the pet cemetery and collapsed, taking his last couple of breaths, going in the direction of Thomascena's grave. I put him as close as I could to Thomas. The ground in this area is real rocky and it's hard to dig in some spots. It was really something, when I dug the grave, I did not find one rock. Like that is where he was to be. At the end of June 2014, I will be 76 and I'm still going on my walk. I have a Boston Terrier who walks with me, but Ace will always be there on the walk with me too.