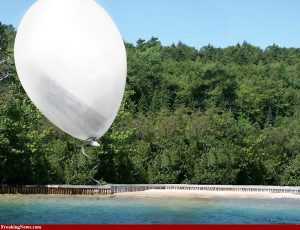 During Spring Break, the Austin family from Paragould, AR., were in Gilbert, on the Buffalo River. Since it was snowing, entertaining the five children was challenging. Being creative, they decided to put a message in five different balloons and release them to see if they get a response. When they released the ballons the wind took them east.
Mr. Goddard of Fairfield Bay, was outside and noticed something up in the trees near his home on Snead Dr. After a few days he decided to try and remove it from its perch. When he finally got ahold of it he was very surprised at what he came across, a note from Grant Austin asking to have his note returned. So he sent Grant a letter with his note enclosed.
Early this month he received a "thank you" card back from the Austin family, thanking him for returning the note. His was the first note returned.