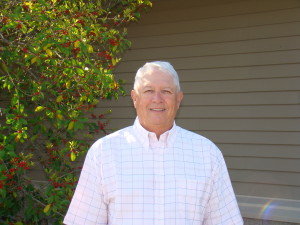 Education: 1968 BS degree in Chemistry and a Mathematics minor from Southern State College in Magnolia, AR.
Occupation: 1968-70 Taught High School Chemistry, Biology, Physics and all related sciences. 1970-72 Military Service with honorable Discharge. 1972-95 Worked in research, developing, producing and selling synthetic resins for plywood, oriented strand board, and laminated veneer lumber businesses. I worked for Georgia-Pacific, Perkins Industries and Borden Chemical Corp. 1995-2000 Huebert Fiberboard Co. as part owner and President/CEO in Boonville, Mo. Then sold the company. 2004-05 Consulting/Retirement 2006 to date – Fairfield Bay – I became a Deacon in the FFB church and served for three years.
Served on the IHGA (Indian Hills Golf Association) board for two years as Treasurer and then Vice-President. Serving on the EMS squad going on three years as second medical.
And last but not least, I have a beautiful wife, Martha, who works at Wyndham Corporation in guest services. We have three children and nine grandchildren. If elected to the board, I will do everything in my power to promote, protect and serve the Fairfield Bay community.