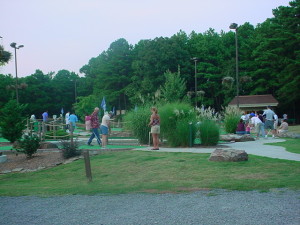 After a beautiful, cold winter the Recreation Department is excited to announce that the opening of Woodland Mead Park is right around the corner. The calendar is booking up, so right now is a great time to plan your pavilion rentals for social and family outings to the park. One of our first bookings at the park is a dog show at the amphitheater, which is set for Saturday, April 5th. The community is invited to join the fun. Be sure to check the Fairfield Bay News for the details on this event, as we get time draws closer.
Exciting New Things Happening.
•We have two new horseshoe pits at the park this year – thanks to the great workmanship of our public works department.
•Hopes are high that the disc golf course will be able to open by Memorial Day! Discs will be available to rent from the Woodland Mead Park cabana once the course is open.
Mini Golf Passes now available.
Don't forget to buy your season passes for miniature golf while they are on sale! Now, through March 31st passes are $20 off the regular price, and you receive unlimited play for the whole year. We also have a lovely paved trail going in through the woods to connect Woodland Mead Park to Ed Leamon Park. The park will be buzzing full of spring activity before you know it, and we can't wait to see you out there!