Sherry Guess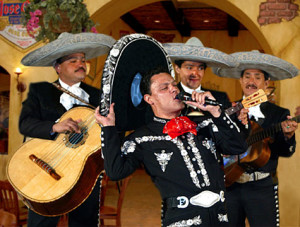 FFB Community Education Center, a non-profit amenity, has been busy hosting classes for residents and visitors alike, adding enjoyment and imparting new skills or honing old ones. The center is located in the Lakewood Village Mall. For the past year and finishing off 2012, it's had with a proud record of being fully self- supporting through registration fees, course fees, donations from benefactors and, in large part, from the proceeds of last year's benefit, "Denim and Diamonds."
This year's Dinner/Dance Fiesta and Silent Auction will be held at the Indian Hills Country Club on Friday evening, May 10, beginning at 5 p.m. with appetizers and an open cash bar. You will be serenaded by the roaming Mariachi Minstrels.
Our sumptuous Mexican Buffet will open at 5:30 and serve all you can eat until 7 p.m. The dance band will begin at 6 p.m. and continue throughout the remainder of the evening.
The Silent Auction items and Bidding sheets will be on display throughout the evening to allow ample time for everyone to bid on the valuable gifts and prizes. The bidding will close at 7 pm and winners will be announced at 7:30. We are in need of items for the auction. If you can donate goods or services to sell at the auction, please contact Sherry Guess at the Comm Ed Center 884-4440, M – Th., from 9 a.m. until 4 p.m.
The fund raiser was very well attended last year and tickets completely sold out. Call your friends and get your tickets early to ensure you won't miss out on all the fun at this gala. Look for more details about the Cinco de Mayo Fiesta in this newspaper or on our facebook page: Community Education Center at Fairfield Bay. Tickets can be purchased at the Education Center in the Village Mall, in the City office or contact your favorite City Council member who will also have tickets for sale.
A postscript to all those who attended last year: the new air conditioning works wonderfully well. It will be cool inside!