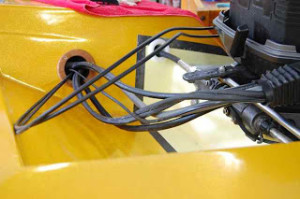 With warm weather approaching, everyone is starting to get thoughts of Spring and will soon be getting " SPRING FEVER ". Punxsutawney Phil, the King of all Groundhogs and probably the most famous predictor of Spring, came out of his burrow on February 2nd and saw his shadow, which is his prediction that we will have six more weeks of winter (last year he did not see his shadow and predicted an early Spring. His prediction then was totally wrong and he was severely scorned for it – time will tell if he is correct this year). Regardless if he is right or wrong, we have had a tough Winter and many of us have cabin fever and look forward to milder weather and getting outdoors again. If you are a boat owner, thoughts of lake time come to mind and you start thinking about that boat that you put to bed for the Winter. You'll soon want to de-winterize it and have it ready to go for the season.
FIRST: The first thing that should be done is a thorough cleaning and inspection of the boat. Items no longer needed should be removed to make way for some of the " New Stuff " that you might want to bring on board. Any items or areas needing repair should be addressed. Now it's time to get that motor ready for the season.
NEXT: If the boat is powered by a 2-cycle outboard motor, fewer steps are required compared to a 4-stroke outboard or a stern drive boat. Below is a general procedure, depending on the type of propulsion that powers your boat some items may not apply.
OIL- If your oil wasn't changed when the engine was winterized it should be changed along with the oil filter.
LOWER UNIT – If your lower unit lube wasn't changed when winterized it should be changed.
WATERPUMP IMPELLER – Most manufacturers recommend replacing it every 2-3 years, when was yours replaced?
FITTINGS & CABLES – Grease & Lube as required.
COOLING SYSTEM – Re-install all hoses and drain plugs. Inspect all belts and hoses for cracks and wear and replace if needed.
FUEL SYSTEM – The boats fuel tank should have been topped off with gas to prevent any moisture and condensation forming in the tank. Change the fuel filter and check all fuel lines for brittleness and cracks. Brittle and cracked lines must be replaced . If equipped clean the flame arrestor.
BATTERY – Check the fluid level and fill to proper level with distilled water if needed. Charge and test the battery. If the battery won't hold a charge replace it. Clean the terminals and connections and reattach them, attaching the positive cable first.
MISC. – Replace any items that were removed for winter storage. Inspect all life vests and replace any found to be in poor condition. Check to make sure your first aid kit is complete. Check your navigation lights to make sure they are in proper working order.
*** The above is a list of suggested steps for de-winterizing. For complete instructions please refer to your owners manual.
Many boat owners opt to have their boats serviced by a professional service person. There are many marinas around the lake that can perform this service for you including us here at FAIRFIELD BAY MARINA. If you should choose to have the service performed by a service shop be sure to schedule reasonably in advance so that the work will be completed by the time you are ready to use the boat.