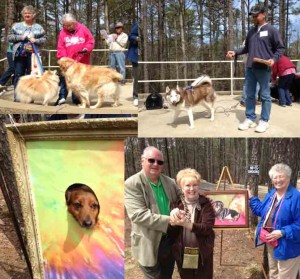 The first Annual "Paws in the Park" Dog Show, at Woodland Mead Park last Saturday, was called a huge success by Carlene Woodard, President of Laureate Alpha Lambda chapter of Beta Sigma Phi. Dogs and dog owners stopped to sniff the treats at the vendor's booths along the sidewalk to the Amphitheater. . It was a great day for an outing, with a wide variety of things to see and do and smell and eat. For instance, Darrell Osborn brought his birdhouses and "Stone Critters," and every once in a while blew his shofar to call attention to his booth. Linda Calvert, from Large Mouth Pizza, had her "Scentsy" warmers on display and several booths offered pet related wares for sale. The photo booth was a popular destination for a unique "photo op" for pets to pose for a head shot, and, of course, hot dogs (no pun intended) are always popular to eat in an outdoor setting, while meandering among
At 11 a.m., the dog show began with judges Lee Johnson, Phyllis Foster and Ingeborg Hollwoeger on stage to view the 25 canine participants in six categories.
Several politicians took advantage of the spring day and made the most of the opportunity to meet and greet people. The raffle winner was to receive a hand painted portrait of your favorite pooch (or feline friend) donated by sorority sister and popular local artist, Bonnie Hookman. It was won by Willa Wells.
Sorority members thank all those who participated in any way to make their first annual event a success. A portion of the proceeds this year are to be donated to the Fairfield Bay Animal Shelter.